More good news from the world of Ben Ball. GO BRUINS. -N
AA2, or Alfred Aboya as some of you may know was taken to the hospital following blurry vision from a slap in the face from a Yale player.  He had an injury to the floor his orbital cavity (near his eye.
Here's a quick anatomy lesson: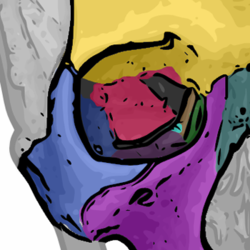 yellow = Frontal bone
blue = Zygomatic bone
purple = Maxillary bone
red = Sphenoid bone
brown = Ethmoid bone
aqua = Palatine bone
green = Lacrimal bone
So the bottom of this was fractured.
Now, if this was dislocated, it would require surgery and around two months of recovery.
However, Aboya has been cleared to play:
"Aboya met with a specialist on Monday and was cleared to play on Wednesday when the Bruins host George Washington. He will have a non-contact practice Monday and return to full practice Tuesday with protective goggles." So this is good news for our Bruins.  He is a valuable player though it may not show up in the box score.
Though, the question might be... will he start?
GO BRUINS!