Bumped. Another amazing effort from the Captain. GO BRUINS. -N
If you want to be the go to guy at the Rose Bowl this year when everyone around is wondering what is going on, all you need do is read the articles and summaries below, and you too can be an expert on any position on the team this year! I assembled many of the articles covering positional analyses for UCLA in 2009. I'll also do a one or two sentence summary on each position, for those of you who want to save some time.
I wanted to get this out before the start of practice so that those attending have something to refer to on iphone, laptop, blackberry, etc, while watching practice this year, mostly because I am hungry for information and I can't get out to the practices myself! A lot of it may be familiar if you've been following football in the offseason, but I thought it would be nice to get everything in one place for reference purposes. You can get a roster here.
Most of this information is coming from three sources I list below. If anyone comes up with some links to add to this list, just leave a comment and I'll update it. Just fyi, I haven't found any articles yet that cover our fullbacks.
1. All PAC-10 has been doing an ongoing series for each position and team in the PAC-10. They aren't done with all the positions yet, but what they have is pretty solid.
2. The LA Times has been running a similar analysis to the All PAC-10 Blog. It isn't as good, but there is still decent information to be had.
3. Right before spring started, ESPN did a position by position strength analysis. Each position on every PAC-10 team was ranked as either Great Shape, Good Shape, or We'll See. UCLA was ranked 4th overall.
Enjoy!
  Quarterback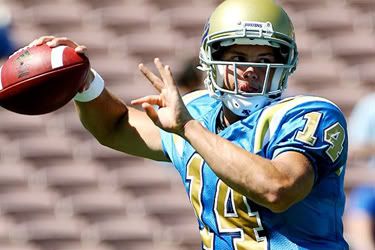 *Kevin Prince gets ready to fire it.*
Projected starter: Kevin Prince #14, 6'2" 219lbs
Last year was a down year for QB, due to injuries and a poor O-line. This year should be marginally better. Last year's starter, Kevin Craft is currently third on the depth chart. If Kevin Prince can throw as many TDs as INTs, that'll be a big improvement. 
More info at:
Offensive Line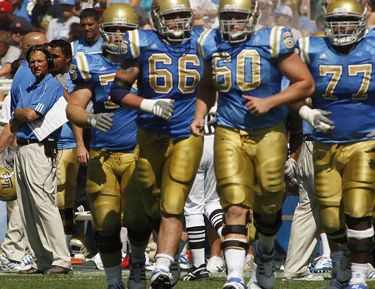 *One of our many offensive lines from 2008.*
Projected starters (freshmen/recent transfers not yet factored):
LT - Sean Sheller #72, 6'5" 294lbs [Update 8-24-09 New starter - Xavier Su'a-Filo #74, 6'4" 310lbs]
LG - Darius Savage #77, 6'4" 339lbs [Update 8-24-09 New starter - Stanley Hasiak #56, 6'5" 318lbs [Update 8-31-09 New Starter - Jeff Baca #60, 6'4" 306lbs]
C - Kai Maiava #51, 6'1" 309lbs
RG - Nick Ekbatani #75, 6'5" 306lbs [Update 8-24-09 New starter - Eddie Williams #62, 6'1" 331lbs]
RT - Jeff Baca #60, 6'4" 306lbs [Update 8-31-09 New starter - Mike Harris #65, 6'5" 326 lbs]
This unit has been the subject of a lot of discusion for the last two years. Last year, the unit was decimated by injuries and had a different starting rotation in every game. This year things are looking up with many talented new freshmen and transfers like Xavier Su'a-Filo, Stan Hasiak and Eddie Williams. [Update 8-31-09 It looks like the freshman made a big impact in the summer 2 a days. Su'a Filo is established at LT. Hasiak will battle Baca for time at Left Guard and it looks like Mike Harris earned a spot at RT.]
More info at:
 Backfield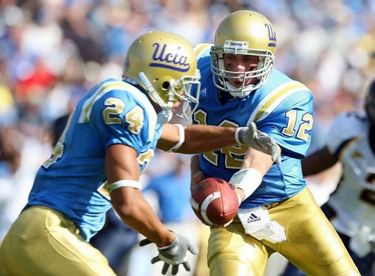 *Christian Ramirez gets a handoff.*
Projected Starters:
TB - Christian Ramirez #24, 6'2" 222lbs [Update 8-24-09 New Starter - Johnathan Franklin #23, 5'10" 201lbs]
FB - Chane Moline #42, 6'1" 247lbs
In 2009 we should have an improved running game due to increased depth, an improved offensive line, and some great talent. Christian Ramirez, the projected starter at tailback, is considered a do-it-all, mutli-threat back. [Update 8-24-09 - I should say a couple words about Franklin since he's the new projected starter. It looks he won his position in the fall scrimmage where he averaged more than 16 yds per carry including a huge 60 yard run for a TD. He has excellent speed and was the fastest player on the team until the arrival of Randall Carroll and Damien Thigpen.] In August we'll be getting our first look at Mr. 4.28, freshman Damien Thigpen.
More info at:
Wide Receiver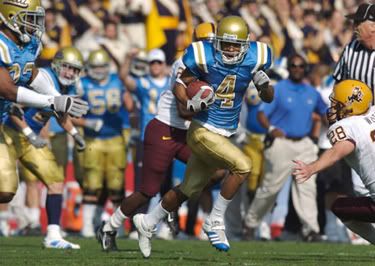 *Terrence Austin making some Sun Devils miss.*
Projected starters:
SE - Taylor Embree #82, 6'3" 208lbs
FL - Terrence Austin #4, 5'11" 172lbs
In 2009, UCLA adds another of year of experience to 2008's starters, Taylor Embree and Terrence Austin.This looks like it will be a solid unit for us with depth added by Nelson Rosario, Gavin Ketchum, Antwon Moutra, Jerry Johnson and incoming freshmen Randall Carroll and Ricky Marvray.
More info at:
Tight End
*Ryan Moya celebrates against Tennessee. Pic via www.PE.com*
Projected starter: Logan Paulsen #86, 6'5" 264lbs
Tight end is UCLA's deepest position on offense. Paulsen is a stud. Look for big contributions from backups, Morell Pressley, my hero Ryan Moya, and Cory Harkey.
More info at:
Defensive Line
*Brian Pricemakes another great tackle. Pic via media.dailybruin.com*
Projected starters:
DE - Datone Jones #56, 6'4" 267lbs
DT - Brian Price #92, 6'2" 300lbs
DT - Jerzy Siewierski #90, 6'2" 296lbs
DE - Korey Bosworth #55, 6'1" 242lbs
The defensive line will be excellent in 2009. Brian Price is a potential All American, and Datone Jones just oozes potential. Jerzy Siewierski and Korey Bosworth (sack leader in 2008) are both seniors and are expected to hold up their end of the bargain as well.
More info at:
Linebacker
*Reggie Carter zeroing in on a target. Pic via images.athlonsports.com*
Projected starters:
MLB - Reggie Carter #51, 6'1" 240lbs
SLB - Akeem Ayers #10, 6'4" 252lbs
WLB - Kyle Bosworth #54 6'1" 234lbs
This is another strong unit for the Bruins. Reggie Carter is the top rated PAC-10 linebacker in 2009. Also look for big things from Akeem Ayers this year.
More info at:
Defensive Backs
 *Alterraun Verner makes another great play. Pic via latimesblogs.latimes.com*
Projected starters:
CB - Alterraun Verner #1, 5'11" 180lbs
CB - Aaron Hester #21, 6'1" 203lbs
SS - Glenn Love #20, 6'4" 210lbs [Update 8-31-09 Splitting time -  Tony Dye #6, 5'11" 199lbs]
FS - Rahim Moore #3, 6'1" 197lbs
This is a young but talented group. Alterraun Verner is the lone senior, a potential All American, and one of the top 2 corners in the PAC-10. Rahim Moore is a second year starter and 5 star recruit. Hester and Love are inexperienced, but talented and expected to do well in 2009. [Update 8-31-09 Glenn Love wasn't super impressive in summer play. Tony Dye has worked hard and earned the right to split time with Glenn Love.]
More info at:
Special Teams
*Kai Forbath on his way knocking through another one. Pic via farm4.static.flickr.com*
 Projected starters:
K - Kai Forbath #25, 6'0" 192lbs
P - Jeff Locke #18, 6'1" 204lbs
Kai Forbath is on several preseason All America lists. I believe he is about 100% accurate so far beyond 50 yards. Incredible. We lose our excellent punter from 2008, Aaron Perez. Jeff Locke looked ok in the off season, but we'll have to wait and see how he pans out in 2009.
More info at: