EDIT: To symbolize the fact that most of us have moved on from this silly disagreement, I changed the headline to something less inflamatory.  I think it's pretty clever.  Beat the Ducks.
I will start by saying this:
I was in the Den last night.  I tried to run out onto the court.  My actions are the subject of front page ridicule on this site that I read religiously.  I am offended.
Let me tell you why.
Many of you have made the point that last night's game was played in a Pauley pavilion that was half full.  Well those of us sitting in the den were the ones who don't care that our team is struggling, who don't care that we had to wait in line in the rain to get our priority passes, who don't care that Washington was a heavy favorite to beat us.  We are the die hards.  We are the true faithful.  I do not mean to diminish your fandom if you could not make it last night, I merely want to point out that those of us sitting in the den last night represent a new generation of UCLA fans, and that we are committed to carrying the tradition of passionate fandom on our shoulders.
I know that our response probably seems a little silly in a place with 11 national title banners hanging from the rafters, but it was a simple emotional reaction.  And it was fun.  Our team has its flaws, but watching Reeves Nelson and Tyler Honeycutt fight for every board gave me hope for the future last night.  Our guys went to war in the last few minutes of that game, and I couldn't have been prouder of them.  At one point Reeves Nelson took a split second to acknowledge the den after hitting a free throw, and together we all knew that fans matter.  We are the home court advantage.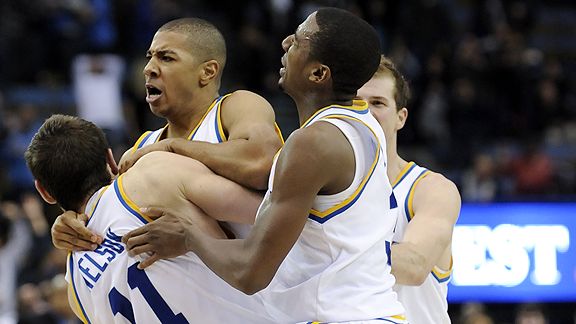 So coming from a person who spent every single second of UW's posessions screaming at the top of my lungs and bouncing up down, trust me when I tell you that rushing the court wasn't a comment about the future of UCLA basketball.  Stop assigning some overreaching and overblown grandeur to a simple moment of joy.  If someone deserves criticism from last night's victory, it's the alumni who wouldn't get off their feet even in the last minute.  If you were sitting down when Mustafa drained that game winner, I'm calling you out.
I will keep on loving UCLA with all of my heart whether we are undefeated or winless, and when we do something spectacular, unexpected, or even just out of the ordinary, I will celebrate with all of my ability.  If you feel that over the top exuberance and excessively-passionate fans are a problem worth complaining about, I would point you in the direction of the cynical soulless fans who left their season ticket seats empty last night.  I did my part.  Did you?
And to Nestor, I will continue to loyally read this site (there's no better place to read about the bruins I love), however, I ask that you consider a qualified apology to the den.  Yes, our reaction may have been more than was called for, but it came from a good place.
GO BRUINS.