Often lost amid the swirl of transfer-ous rumermongering swirling about the Arsenal camp this offseason, where nearly each player currently under contract has been linked with a move to another team, is the future of manager Arsene Wenger.
Before I get charged with inciting conjecture and fueling chatroom message board vitriol as the British tabloids have seen fit to do this summer, let me say that I don't see Wenger leaving Arsenal this season--in fact, I see him staying on for at least two more years.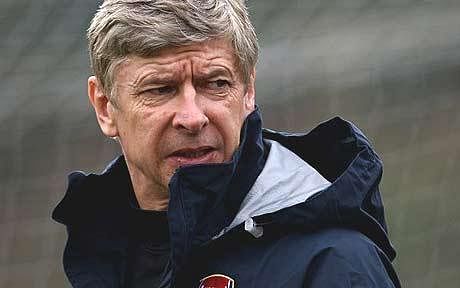 What got me thinking, however, was a quote by Wenger last summer. When asked about his future--the Alsace-born Frenchman is 61, and has been at Arsenal since 1996--moved quickly to pledge his commitment to Arsenal, yet tossed about a potential move to Paris in the future.
Now, it's hard to fault Wenger for his Parisien dream: it seems like everyone has at one point dreamed about living there: the city even got a shoutout from Kanye from his newest album in his song 'Dark Fantasy'.
Yet Wenger wouldn't be moving to Paris to enjoy the leisurely lifestyle of a retiree. He would want to take an executive position at Paris Saint-Germain, the club founded in 1971 to give Paris a taste of top-flight football. PSG thrived in the mid-1990's when it boasted some of the premier talent in the world: remember, this is a team that had Ronaldinho before he became...well, you get the 'picture'.
PSG, who once considered participation in the Champions League as something of a birthright, have not played in the competition since 2004. A dearth that no doubt perplexes M. Wenger, who alluded to the considerable funds PSG possesses, and its location in one of the biggest cosmopolitan centers in the world, believes that the club has the capacity to be a world beater.
Even Real Madrid coach Jose Mourinho wondered aloud at the lack of recent success in the French capital's side during a May interview with L'Equipe, in which he was quoted about the current predicament of PSG, "It's an unbelievable situation for a city that loves football so much and has so many immigrants, from Portugal and elsewhere."
Like the powerful sequence in Lawrence of Arabia, when Prince Feisal hearkens back to the stretches of public lighting of Cordoba, whose technological prowess made it the envy of Europe. Yet Cordoba, like so many former greats, was bypassed, and slunk into insignificance.
But there's no reason why something that was once great can't be great again: as T.E. Lawrence (played by Peter O'Toole) responds to the nostalgic Feisal, "Time to be great again."
PSG are now under the ownership of a Middle Eastern group with considerable financial resources. After finishing fourth in Ligue 1 last season, it is only a matter of time before they reawaken and reassert themselves as a force to be reckoned with both in France and in continental Europe. As Wenger and Mourinho noted, there's just too much in the way of resources and backing for them not to succeed.
What got the cylinders firing in my head this week was reading about Trevor Bauer, the right-handed flamethrower UCLA baseball player, who decimated opposition during the 2011 season to the tune of a 13-2 record in 16 starts, 1.25 E.R.A., and 203 strikeouts. Stats gaudy enough to earn the junior the coveted Golden Spikes Award--given to the best player in Division 1, and make Bauer the No. 3 selection in this year's MLB Amateur draft.
I'm all for excellence in any aspect of UCLA athletics. My hat goes off to Bauer for his superb UCLA career, which saw him become the darling of Major League Baseball scouts, who have compared him favorably to San Francisco Giants hurler Tim Lincecum.
No, my problem doesn't arise from Bauer's success. Well, actually it does. I love baseball, but the fact that it is currently the more successful program when compared to Bruin basketball and football is simply infuriating.
I can't remember the last time that a preseason poll listed UCLA higher than 7th in preseason conference rankings. Now that the conference has been broken up into two divisions, each with six teams, UCLA now hovers around 5th. Spectacular, that the only reason UCLA jumps up in the polls is because of conference restructuring.
Just like PSG, there is no excuse for UCLA football to be mired in mediocrity. That's good enough for lesser programs: but for a school that boasts top-notch athletic facilities, competitive funding, and a recruiting area that is one of the most fertile in the nation, there is no legitimate argument for why UCLA should not be in the top 25 year-in, year-out.
Like anything in sports, I believe it comes down to coaching. Look at USC before they got Pete Carroll. UCLA had spanked the Trojans around in the Victory Bell rivalry in the ten years before Petey's 2001 arrival, maintaining an 8-2 record from 1991-2000. During Carroll's reign from 2001 to 2009, UCLA won one game.
Carroll galvanized USC, turning it into the premier destination for recruits nationwide. It didn't matter if a prospect was from California or Florida. If USC came calling, there was a very good chance they were going to nab him. That kind of power comes as a byproduct of success. Success which coincided with Carroll's arrival.
Look at Alabama before Nick Saban's arrival. They were a middle-of-the-road team in the incredibly competitive Southeastern Conference, still reeling from crippling NCAA sanctions. 2007 was Saban's first year at the helm. By 2009, Alabama were national champions.
Look at Stanford before Jim Harbaugh; the East Dillon Panthers before Eric Taylor...even if the last one is a grasp at fiction, there is no denying the correlation between good coaching and success.
Rick Neuheisel has been at UCLA since 2008. His arrival was widely greeted with optimism, even though UCLA's first choice had been Boise State coach Chris Petersen. Neuheisel was a proven winner--former stints at Colorado and Washington had been largely successful.
But Neuheisel had also proven he could break NCAA rules, as those two programs had both been bunkered down by sanctions imposed after the discovery of violations committed during Neuheisel's tenure.
Optimism reigned nonetheless. UCLA had been practically irrelevant on the collegiate landscape since a near-run to the inaugural BCS Championship game in the 1998 season, where a perfect season was derailed by the Edgerrin James-led Miami Hurricanes in the last game of the regular season (UCLA would go on to lose to Ron Dayne and the Wisconsin Badgers in the Rose Bowl).
Neuheisel's predecessor, the unfailingly polite but questionable-head-coach-material Karl Dorrell, had run the UCLA program into the ground by the team he left after the 2007 season. Dorrell had enjoyed one phenomenal season--in 2005, the Bruins were once more in the running for the national championship, making stirring fourth-quarter comebacks something of a regularity.
Then came the last two games of the season, when an undefeated Bruin team saw its title hopes come crashing down in the last two games of the season, when blowouts delivered by Arizona and USC effectively ended any chance at a national title.
That '05 season, however impressive, seemed far too similar to University of Illinois basketball coach Bruce Weber's 2004-05 season, when Weber had taken a team largely composed of former Illini coach Bill Self's recruits. Weber is a good coach, and he brought those kids to the National Championship. But what has Illinois done since then?
I'm sure Dorrell is a great guy, and his time spent in the NFL testifies to his proficiency as an X's and O's kind of coach. He knows his stuff. But the fact remains (shoutout to Nestor) that he recruited woefully for the majority of his time at the helm of UCLA.
To his testament, he did bring in Maurice Drew (now Maurice Jones-Drew), who would provide a huge impact during his three years in Westwood. But when he declared for the NFL draft following his junior season--which happened to be 2005--it marked the last time UCLA would achieve anything of note under Dorrell.
When Neuheisel arrived in Westwood, the cupboard was about as bare as Colin Cowherd's brain. It was only natural that he would be given a grace period to rebuild UCLA into the power that he declared he could deliver. His time started off with a bang--UCLA won his first game as head coach in a rollicking grind-it-out affair against Tennessee at the Rose Bowl. A signature win, but one that lost some of its luster when it turned out that Tennessee, well, sucked that year.
Nestor rightly acknowledged that Neuheisel lost the first two choices on his depth chart (Ben Olson and Patrick Cowan) during the offseason, thrusting junior college transfer Kevin Craft into the fire. Craft would struggle throughout the season, but to the man's credit, he never quit fighting.
That 2008 edition of UCLA ended 4-8. Inauspicious beginnings, but the UCLA fandom had its endorphins kicking into overdrive on 2009's National Signing Day--the first day that recruits can sign letters of intent--when Neuheisel pulled a stinging recruiting coup, nabbing recruits Randall Carroll and Morrell Presley, who had been USC commitments.
The good vibrations emanating from February's signing day seemed reinforced in the first few games of the 2009 season, during which UCLA traveled to Tennessee and beat the Vols once more, this time at Neyland Stadium.
UCLA was showing signs of progress: sure, they sputtered to a 7-6 record, but this was only Neuheisel's second season, and he'd posted a winning record. Sure, they only earned the the rights to play Temple in the Las Vegas Bowl after Navy blew their chance by losing in their last game of the season, but UCLA beat Temple--a very good team.
Things seemed to be pointing the right direction. Neuheisel amassed another impressive crop of recruits in his 2010 class, one that included the Gatorade High School Player of the Year--running back Malcolm Jones out of Westlake Village, California.
2010 was supposed to be the season that everything came together for UCLA. It was Neuheisel's third year as head coach--the year widely regarded as the litmus test for a coach; ie. he's had three years to recruit and build a program, and should be able to give a good sense of the direction he'll take the program. Case in point: by Pete Carroll's third year, he had USC going anywhere in the nation to play anyone--they spanked national title contender Auburn on the road and finished the regular season 11-1 before defeating Michigan in the Rose Bowl 28-14, earning a share of the national title with LSU.
That same level of success wasn't expected of Neuheisel, but an invite to a top bowl game didn't seem out of the question. Instead, Neuheisel's third season at UCLA began would have made former Bruins basketball coach Steve Lavin proud. The Bruins regressed, instead of progressed.
Doing his best impersonation of the man who once made himself the darling of hair gel companies nationwide, Neuheisel's Bruins defeated Houston (the defensive intensity was rampant--Cougars QB and Heisman contender  Case Keenum was knocked out of the game, effectively derailing his season), and stomped Texas in Austin, 34-6.
The latter result sent shockwaves throughout the country. Any time the ESPN Gameday crew is made to look like fools is a good day--to my knowledge, they have never picked UCLA to win any game. The day of the Texas match-up, they once more gave UCLA no chance, but UCLA went out and did just that, running the ball right down Texas's throat.
At one point during that season, UCLA was 3-2, with two signature victories. UCLA would...not continue their momentum, however, finishing the season once more at 4-8, during which they became an embarrassment to anyone who calls him or herself a Bruin fan. The game against national-title contender Oregon in Eugene was a nightmare typifying the current state of the program.
It wasn't the fact that UCLA lost that game 60-13. It was the fact that the ESPN announcers covering that game referred to UCLA like some tiny school up against an insurmountable opponent. Any time UCLA managed a first down, it was a remarkable achievement. Any time embattled quarterback Richard Brehaut completed a 5-yard pass, it merited praise.
That game encapsulated everything that is wrong with UCLA. The football program is now at the point where mediocrity is the working title. If UCLA football has reached a point where success is an unexpected surprise, rather than the standard, it is time to change.
They are not expected to be able to compete with the top teams in the nation. Top recruits in Southern California don't list UCLA as a school of interest. It's the same downward spiral that previously engulfed Lavin's UCLA tenure. Lavin, who began his time at UCLA bringing in top recruiting classes year-in, year-out, was struggling to nab mid-level prospects by the end of his time in Westwood. Neuheisel's 2011 recruiting class was middling at best. It doesn't take a rocket scientist to realize that his program is now firmly planted on a downslope.
This is unacceptable, and, to my mind, inexplicable. I approach the current predicament of UCLA football much in the same way that Mourinho regards PSG. There is no reason for the program not to thrive.
As Harbaugh proved at Stanford, which has some of the most stringent academic expectations in the nation, success can be managed anywhere. Stanford's unequivocal domination of Virginia Tech in the 2011 Orange Bowl is a fitting testament.
Stanford began its reclamation process with a core of very good players who bought in to the since-departed Harbaugh's vision for Stanford. They weren't deterred by the extent of Stanford's plight before their arrival: players like Andrew Luck came to Stanford hungry to establish it as a national contender. And they have done just that.
UCLA, during the same time, has recruited players like Presley who, while immensely talented, have questionable character. Presley has since left the program after violating team rules.
I could go on for ages--I realize I practically already have--about why I think Neuheisel should be given the boot.  But I'll finish by reinforcing the notion I began with: like PSG, UCLA has too many resources, and too dedicated a fan base, not to succeed.
It's time to find a coach who can lead them back to prominence. After all, if I can lead UCLA to a national title in my first year at the helm in NCAA Football 11, they can certainly manage it in real life. It is too frustrating to see other programs turn themselves around by making the right coaching hires.
I don't think UCLA has done itself justice with the Neuheisel hiring. Hey, if they hired Slick Rick, why not go after Jim Tressel? I heard he's looking for a job.