Look what we've got here.
UCLA on the front page of ESPN.com's college football section.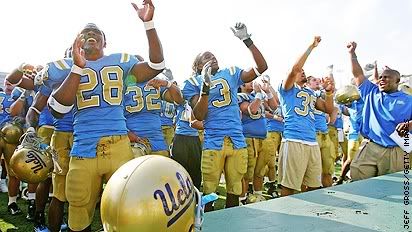 Before you jump up and join in the 8-clap excitement, Forde's write up is less than complimentary (he has UCLA ranked #4 out of the 5 unbeaten teams remaining who have only played 1 away game).
UCLA (4)
Home games to date: Rice, Oklahoma, Washington, California. It's not the Bruins' fault that the Sooners are in crisis -- but that win looks less impressive as we go along. The comeback to beat undefeated Cal was definitely the signature moment, and the kind of thing that could be a season-long springboard.
Road game: at San Diego State (No. 99 Sagarin). Talk about having it wired: the Bruins haven't even left Southern California yet.
Remaining road games: at Washington State Saturday, at Stanford 10/29, at Arizona 11/5, at USC 12/3. Hard to figure which one is the toughest, isn't it? Actually, don't overlook the game in The Paloose Saturday. UCLA has lost four straight to Washington State.
Chances of losing at least once on the road: immense, considering that season ender.
Even Matthew Zemek of CFN is buying into the hype, as he has UCLA pitted against Alabama in the Fiesta Bowl. Yes, that is Fiesta Bowl, as in the New Years day BCS Fiesta Bowl.
Bama will find itself in a dogfight with the second-place Pac-10 team and the ACC's No. 2 for one of two at-large berths that will both likely go to the Fiesta Bowl, given the presence of the Big 12 champion (and normal Fiesta tie-in) in Pasadena, not Tempe.
The other of the two at-large berths will most likely fall to either UCLA or Florida State. Cal, with a loss to USC, will fall out of contention, though a win over the Trojans and subsequent 10-1 finish will put Jeff Tedord at the top of the list for a BCS game his program was deprived of last season.
FSU will seal off Miami from BCS consideration because of its win over the Canes, and the rest of the SEC looks too bloodied up for anyone other than Alabama to get an at-large berth. Auburn lurks under the radar as a darkhorse candidate, but the Tigers still haven't played a spotlight game...
and won't until Oct. 22.
Ultimately, UCLA is more likely to get the bid because the Bruins have a better shot at having just one loss, compared to a Seminole team that must win one of two games--at Gainesville, and then in Jacksonville for the ACC title--to finish with just one blemish.

The formula for UCLA is very simple.
More wins = more respect.
Let's get some more of both Saturday.