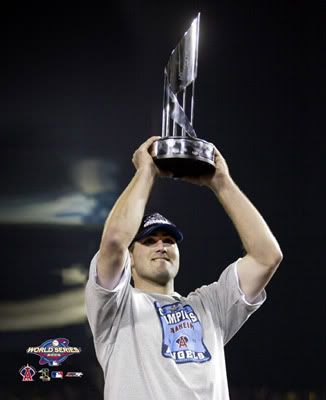 Bruin alum Troy Glaus celebrates the Angels' first World Series Championship in 2002.
Tonight, the Anaheim Angels of LA begin their quest for their second world series championship against Major League Baseball's equivalent of the $C Trojans, the New York Yankees (who are still whining about Texas Ranger manager Buck Showalter pulling his starters in their final game of the season, helping the Halos secure the home field advantage).
We all remember what the Halos did to the Yankees in 2002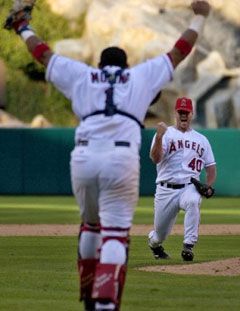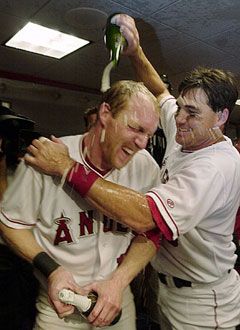 Probable AL Cy Young winner Bartolo Colon gets the start tonight against the Yankees


Big Daddy Vlady loves Yankee pitching

The Yankees will have a hard time containing Chone Figgins, the AL stolen base champion.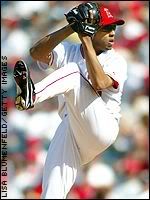 AL leader in saves, Francisco Rodriguez (tied with Cleveland's Bob Wickman)

Kelvim Escobar, the X factor in the Angels run to the World Series
For some great analysis and discussion of the Angels' Hunt for a Red October, make sure to visit Rev Halofan and the rest of the Angel fanatics at Halosheaven
According to ESPN (who I happen to believe for this analysis, the edge goes to the Halos.
Go Angels!