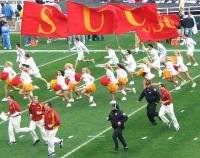 It's that time of year.
This year, however, the stakes are a little bit higher. Not only will a W against the criminals from South Central knock them out of the national championship game, it will provide UCLA with chance, albeit remote, to get into a BCS game.
In other words, Dorrell better have this team ready. I think he will.
Maurice Drew is promoting Drew Olsen for Heisman in Dohn's article in the LADN this morning. Drew should definately surpass Brady Quinn after Quinn nearly handed Stanford a W last night with his 2 ugly INT's. We agree with Maurice--Drew Olsen deserves to go to NY.
Dan Webber at the Riverside PE has a piece on how the big game will impact the outcome of the Heisman trophy balloting.
In the spirit of SuC week, the VC Star has a piece on UCLA legend John Barnes and the amazing story of how he led the Bruins to victory over the hated SCum bags from South Central.
Finally, huge props to the Lady Bruin hoopsters for winning the LMU tournament and smoking #11 UGA in the process.