Bumped. Yes we used to get some hate mails back in August 20, 2005 for putting up these kinds of blog posts. But looks like A, O, and yours truly were on to something when we first started blogging over here. ;-). Let's get to know BD. How would you like two UCLA major revenue sports being headed by a Ben Howland and the Butcher of Westwood? -N
(This is part 2 in a multi-part series in which we will spotlight names that should be included on the list of replacements for the current UCLA head football coach--Ed.)
3 Super Bowl Championships as an NFL Defensive Coordinator. National Championships as both a DC and Head Coach. These are just some of the qualifications in the impressive coaching resume of Butch Davis.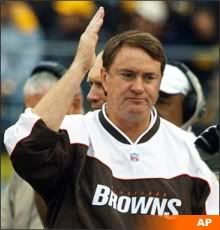 Should UCLA choose to go the NFL route in selecting the next head football coach, they could do a lot worse than Butch Davis. Along with the credentials detailed above, one of the most amazing accomplishments of Davis' career, and perhaps a quality that will be much needed when a new head football coach at UCLA is needed, was the resurrection of the football program that he directed at the University of Miami when he accepted the Head Coach position in 1995 after Dennis Erickson and Jimmy Johnson had destroyed any semblance of respectability in that once proud program. (Remember when the Miami v. Notre Dame match-up was glossed the "Catholics vs. the Convicts?")
Davis took over for Dennis Erickson in 1995, after the NCAA had issued the partial death penalty (the loss of 31 scholarships) against the Hurricanes for a litany of NCAA violations.

Despite knowing full well the NCAA was about to drop the hammer on the Hurricanes, Davis couldn't pass up such a challenge (Taking the head coach position at UM). On Jan. 24, 1995, eight days before the national letter-of-intent signing period began, he was introduced as the 18th head coach in the school's history. Incredibly, Davis was able to land a nationally-ranked recruiting class, and the team went on to post an 8-3 mark.
Americanfootballmonthly.com
UCLA is going to need a dynamic recruiter to bring in top notch players in order to pull the football program from it's current state of mediocrity. If Butch Davis can go from near NCAA death penalty to National Champion in just 5 years, it's reasonable to assume that he could undo the mess that the Morgan Center created by hiring Karl Dorrell.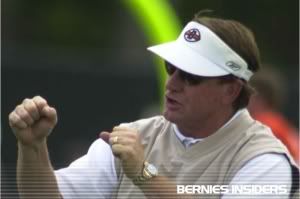 With the exception of dedicated alumni, students and die hard fans, the UCLA football program has largely become irrelevant in the eyes of the college football world under the Karl Dorrell regime. Butch Davis would be terrific choice to restore some of the proud tradition that we UCLA alumni, students, and fans were once so proud of.