My apologies in advance if this post seems scattered, unpolished because I am just going to use this space to pay tribute to a special Bruin, while getting nostalgic about those memorable years in Westwood.   I was going to do my usual Friday pre-game day morning news round up today.   But I am going to change up that routine just for this morning.  As O said below we are not worried about tomorrow's game against those aweful Huskies.  So I think it won't be the end of the world if I don't pay attention to the football notes for the Husky game in today's papers.

Anyways, something really special is happening in Westwood tonight and at the halftime show in tomorrow's game against those puppies from Seattle.  UCLA will be inducting Ed'OBannon and six other Bruin greats in the Bruin Hall of Fame tonight and honoring them at game tomorrow night.  Here is the UCLA release (via Hoop Scoop).  The six other Bruin stars which include basketball great Kenny Washington will have their names etched in the Bruin lore, but I want to focus on one of my two favorite Bruins of all time (a certain QB who wore no. 18 is the other one ... if you are wondering).

I have always felt like I had a personal connection Ed'O.  I checked into Westwood with thousands of other freshmen in 1991, the year Ed'O made his much anticipated debut as a red shirt freshman after suffering a devastating knee injury at the beginning of his freshmen season.  So in many ways the class of 1995 led by Ed'O (along with Tyus Edney and George Zidek) were our boys.  We grew up with those guys starting with a great regular season in 1991 (with a disappointing finish in the Elite Eight), followed by two heartbreaking seasons of 92-93 (ending with a devastating loss to the Fab-5) and 93-94 (Tulsa).

I remember Ed's first game - it was against the Trees at Pauley.   Everyone was up in the student section (yes I was a bleacher bum for all my 4-5 years in Westwood) ... standing ovation ... as no. 31 walked near the scorer's table to check in. And then ... it happened ... Ed'O didn't disappoint ... his first moment in UCLA offense ... was climbing right over a Stanford defender, posterizing him with one of his signature tomahawk dunks.  All I can remember was ... bedlam .... student section becoming a mosh pit.  I believe the dunk was not good because Ed'O was called for an offensive foul, but it didn't matter.  It was the moment.  We knew.  He knew.  Something was different. And, something was going to be different during our time at UCLA.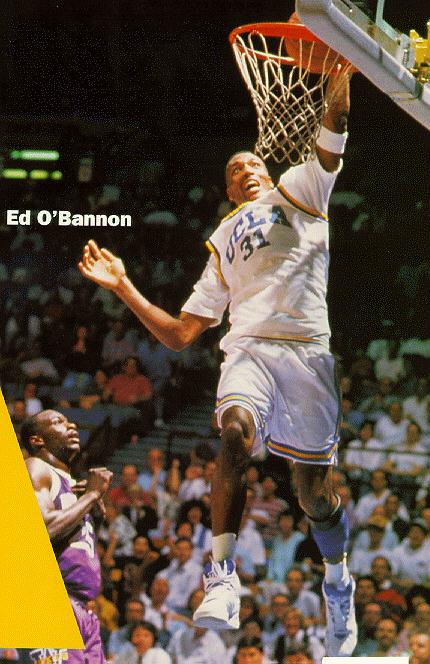 Photo Credit: John Perry's Hoop Page

And of course it all ended with the magic ride of 1994-95.  Too many memories to recollect from those incredible days.  But one game just stands out.  Our last regular season game ... senior game ... for all of us ... Ed, Tyus, and George ... and all the bleacher bums who camped out day in and day out for all the games during four years in Westwood.  The game was against Oregon, who we of course handled.  But there were two moments.  When Ed got introduced before the game ... he walked in with his parents and his baby boy in his arms. He walked right in front of the student section and held up his son just like the lion king.  Again, wish I could describe in words how deafening it was inside Pauley.  Students bowing down ... and when the game end of course Ed headed straight for the center court ... and kissed the center court:




Goose bumps.

UCLA was a special place for me.  I have had a pretty good life since graduation ... but there were something magical about those five incredible years (yes I had such a good time ... had stay one more) in Westwood.  We went 5-0 against USC, went to a Rose Bowl, won three Pac-10 conference titles in hoops, and of course hung banner no. 11 in Westwood.  And lot of those incredible memories, including that incredible April night in Seattle was made possible because of one of the greatest Bruins of all time - Ed'O'Bannon.  Our basketball king of Westwood.

I just love this guy.

GO BRUINS.