Well Ben Ball is finally here to give us some much needed relief from the misery of following Dorrell's hapless and pathetic football program. As we have mentioned already Bruins are taking on a formidable opponent in their first game against a resurgent BYU Cougars basketball program. There are some rumors going around that the game is sold out. Whatever it is Pauley is going to be rocking in support of defending Pac-10 Champions tipping off the most highly anticipated hoops season since 1994-95.  Our good friends from BBR has their game preview up for tonight:
The Bruins will look to continue pushing up the ball at every opportunity against the Cougars.  With Plaisted in the middle, BYU has an advantage offensively in the post, however, UCLA counters with superior players at every other position especially on the perimeter and should do well if they execute their offense properly and cut down on turnovers.

On the defensive end, we'll see the Bruins applying pressure defense throughout the half-court, in particular aggressively pressuring on the perimeter in order to make it tough for players to make easy entry passes into the post to Plaisted.

When reviewing UCLA's non-conference opponents at the start of the season, many overlooked the BYU Cougars game on the schedule.  However, there is an excellent chance this veteran and well-coached BYU team will make the NCAA tournament this year.  Considering the experience, size, and depth of the Cougars, this will be a tough first regular-season game match-up for the Bruins.
Well Bruins will have their hands full with Plaisted in the middle and they got some
expected good news
this week:
Lorenzo Mata and James Keefe are set to return to the lineup tonight when UCLA faces BYU, Head Coach Ben Howland announced yesterday.

"Lorenzo had his second full practice yesterday since returning from his injury and went through 45 minutes of full-contact," Howland said. "He still gets winded due to his conditioning but his knee seems fine. How much he plays will depend on a number of factors."

Mata's return to the lineup would help solidify the Bruin interior defense. Last season, Mata averaged 1.1 blocks in just 14 minutes a game.

"I have no pain in the knee but it still gets a little sore after playing but its nothing some ice can't take care of," Mata said. "It feels strong and I'm going to work to strengthen it for the rest of the season to keep it from future injury.

Howland did not indicate how many minutes Mata will play against BYU, although the junior center feels he's ready to play as many as 20-25 minutes tonight if needed.

Keefe is also expected to play against BYU. Last week before the Humboldt State game, he and Arron Afflalo collided in practice resulting in Keefe suffering a strained neck and not playing in the exhibition game.

"James Keefe is fine and has been practicing with the team." Howland said. "He's ready to play."
Again this is big news (even though expected). We are going to need Mata and Keefe as Bruins will most likely try to double-down Plaisted as they did with number of big guys last season. Besides Mata we can expect Aboya to get lot of minutes at 5 and per
Pucin in the LA times
the big guy from Cameroon has been getting invaluable practice time during Mata's absence:
For most of preseason practice and in UCLA's two exhibitions, sophomore Alfred Aboya, a 6-8 sophomore, has played center. Aboya, like Mbah a Moute, grew up in the African country of Cameroon and it was Aboya who was thought to be the bigger recruiting catch by Howland.

Aboya played in 33 games last season, but he was never truly healthy. A knee injury from high school kept Aboya out of much of the preseason. He also had a hip injury in February. "Nobody really saw the real Alfred last year," Aboya said. "It will be a very big surprise when they see Alfred this year."

Collison says Aboya adds quickness and toughness to the middle. Afflalo says the team most appreciates Aboya's "intensity." Shipp says Aboya is a great offensive rebounder, a tough defender and, "The kind of center you want on the run."

Mbah a Moute says his countryman has an inner toughness that Howland nurtures. "It hurt Alfred a lot last year not to be at his best," Mbah a Moute said. "He very much wants to show all his skills. Alfred may not be the best shooter or best rebounder, but maybe he is the second-best in many things and he is always the best at toughness."

Howland said it was good for Aboya to exclusively practice as the center in the preseason. "It helped Alfred just learning one position," Howland said. "But he gives up a lot in terms of size, especially to the inside players in our conference.
I can't wait to see how Aboya, Mata, Wright, and Keefe handles BYU's main scoring threat playing Ben Howland's inside-the-jersey defense.
Oh by the way the LA Times article mentioned Ben Howland's practice. His practice is already becoming somewhat legendary around these parts. And today Robert Kuwada's in OC Register gives us a little
glimpse of how intense these Howland practices are
:
It is a drive, a determination, born of competitiveness and confidence.

Jordan Farmar had it, took it with him to the NBA. But UCLA coach Ben Howland said Darren Collison, who replaces Farmar as the Bruins' point guard this season, has it as well. To prove it, he points to a practice from last season. He can dig up the tape, if need be.

Collison, then a freshman, was getting harassed by Farmar, poked and pushed around.

"Jordan was trying to establish him by punking him a little bit," Howland said.

It went on for a while. And, finally, Collison had enough. Pushed too far, he reared back and popped Farmar.

"Darren punched him right in the face," Howland said. "That's when we knew we were going to be really good. We have it on tape, somewhere. I think he gained respect from Jordan - you know, 'I'm not taking anything.'"
WARRIORS.  That's really the word I think of when I read about our players learning to become ball players under the guidance of Coach Howland. These guys have no fear during games because they get the best from their team-mates during practices. No wonder Collison was so fearless as a true freshman when he was dismantling Lute's Mildcats on their home floor.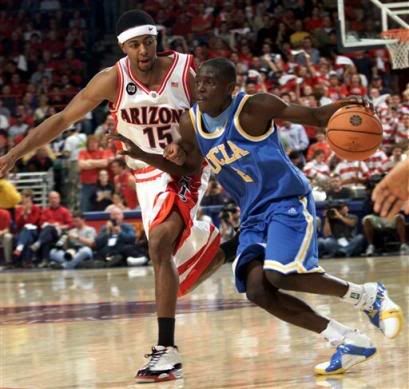 Photo:Yahoo Sports
More on our new floor general from
Brian Dohn
:
"He's been a defensive assassin (in practice)," Afflalo, UCLA's best defender, said of Collison. "He's been causing havoc on the perimeter, which is allowing the rest of the team to work miracles behind him.

"Offensively, he's trying his best to push the ball. Coach Howland wants us to run, and he's doing a fantastic job of trying to get that running game going for us."

But Collison is also largely unproven in late-game situations, and in shooting the ball. Collison shot 40.2 percent from the floor last season, including 32.8 from 3-point range, and averaged 5.5 points.

His unorthodox shooting technique was tweaked during the offseason to tighten his shot, which remains largely the same.

"Like coach says, it's just that I got stronger," said Collison, who improved his bench press improved from 140 to 190 pounds. "I think strength is one of the most important things in the game. I'm not going to be the strongest guy, but I'm going to be the quickest."

Collison also worked on his dribble, which was too high for Howland's liking last season, and contributed to 77turnovers, compared to 88assists. It also made it difficult for Collison to split on-ball screens, a staple of college defenses.

"I'm most definitely ready for this," Collison said. "I actually stole some tapes out of (assistant) coach (Kerry) Keating's office when he wasn't there, just to see what I needed to work on with my game, and what I needed to improve on. I learned I needed to be more in control. I was still in the high-school mode, where you can do anything."
LOL. Stealing game tapes so that he can do some extra homework on his game. And you wonder why we are in love with our Ben Ball warriors. We will have our first regular season game thread tonight. The game is on FSN (Prime Ticket). Tip off around 10:30 pm PST. Let's get the Bruins Nation ROCKING. Our warriors are back in action.
GO BRUINS.