And here is Part 2 of Peter (Burnt Orange Nation) and Orson's (Every Day Should Be Saturday) IMs on UCLA v. Southern Cal (Part I below this post). In this segement Peter and Orson meticulously break down this weekend's huge game by going over all crucial "factors" germane to this matchup. I am going to withhold my impression on ... uhm .. the "Juggler." I have no comment on that dude (again make sure to click on "Read More" to get the full "analysis"! GO BRUINS. - N

Peter: Factor it up, when ready

OS: Factor one: famous alums.

OS: USC.

Peter: Doesn't OJ just end USC completely in this category?

OS: No, there's more.

OS:Joe Francis of "Girls Gone Wild."

Peter: Kareem was in "Fletch," which pretty much puts this in as a "lock" for UCLA, in my book.

OS: Counter: Jerry Buss.

Peter: Counter: Bill Walton.  The ultimate, grand wizard of hyperbole, which you HAVE to love.

Have to.

OS: I have the winner for UCLA, though:

OS: Rudi Bakhtiar, CNN hottie.



(Rudi Image via BN Ed.)

Peter: Yes, please!

OS: Advantage, UCLA.


Peter: So long as Leinart hasn't bagged her yet.

OS: Wait...he just did.

OS: But Mayim Bialik is a Bruin, too, and without Blossom I'd have never seen a truly atrocious hat. So there.

Peter: Done.

OS: Factor two: mascot.

Peter: Hmmm... homoerotic warrior or kind of soft-looking bear?

OS: It'd be a long fight, I think.

Peter: They might just cuddle.

OS: Agreed.

OS: Mascots cuddle, discuss fears of intimacy.

OS:That's a push.

Peter:Draw.

OS: Factor three: perceived hotness.

Peter: There's a blog dedicated to shirtless USC men. I've seen no such dedication to UCLA.

OS: Well, that's actually scoring points for the Trojans, then.

OS: We have to include the female readers.

Peter: I was saying as much.

Peter: I think that's advantage USC

OS: True, now that Rudi's graduated.

Peter: Plus, Pete Carroll purportedly is great at making out.

OS: He is a heckuva recruiter.

OS: Wait!

OS: And I always thought that humanitarians were... I dunno... like, sexy. Kinda like doctors.

OS: UCLA wins. Automatically.

OS: I bring you USC alum...Randy Johnson.

OS: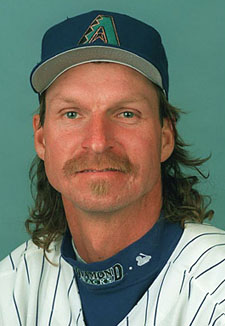 Peter:That's the nuclear option.

Peter: No more discussion, really.

OS: Unless Mark Eaton or Willie McGee graduated from UCLA, we have a reversal on review.

Peter: Wait. Where did Sam Cassell go to school?

OS:You're softballing me here, right?

OS: Florida State University.

Peter: swing away

OS: (glee.)

Peter: you're welcome.

OS: Two more to go:

OS:Prestige.

OS: (football prestige, natch.)

Peter: Among homeless African children or here in the States?

OS: You say football, African children say 'Ronaldinho."

OS: They're eliminated from the process.

Peter: point taken.

OS: Must go with USC, since we reach in the UCLA heritage bag and pull out musty old Freddie Mitchell buttons.

Peter: Let's just call it for USC before someone starts bring up stupid stuff like Heisman trophies.

OS: Agreed--though we're missing an OJ reference there.

OS: Which I just made!

Peter: We should have gone to UCLA.

OS: Why would we have done that?

Peter: Have you read Bruins Nation? Endless OJ jokes! Seriously, it must be a lot of fun.

Peter: You can play the OJ card all the time. To settle any debate.

Peter: It's like kryptonite.

OS: Hey, well, we've got George Lucas...

OS: OJ.

OS: "Hey, well, our girls are hotter..."

Peter: O... Hmmm...  Oh, yeah.  J!

OS: We won the national title!

Peter: You killed your wife!~

OS: It stabs them to the core.

Peter: We have to use redneck jokes on our rivals. I'd prefer a double-homicide from their superstar.

OS: Oh, imagine if Drew Weatherford offed his girlfriend and someone else.

OS: We might just close down the site.

Peter: There'd be no need for EDSBS anymore.

Peter: Sadly.

OS: Actually, Drew would likely attempt a stab, which would be intercepted by Reggie Nelson.

Peter: For Gator fans - every day WOULD be Saturday. Forever.

OS: Okay, final factor.

OS: The 'X' factor. The 'X" stands for "Xactly anything you care to bring into the debate."

Peter: ok, X factor - non-OJ category

OS: Yes...that's Nestor's job.

Peter: Trojans are 0-1 in the Rose Bowl in 2006.

OS: Correctly guessed you'd bring that up. To what team?

Peter: They lost to Vince Young's tree trunk. Also known as his penis.

OS: That game should have just been credited to him.

OS: VINCE: 1, USC Humanitarians, 0

Peter: Seriously - Vince Young cuts Pete's illicit diamonds with his cock.  True story.

OS: Don't doubt it. He loves the orphans, too.

Peter: Your X Factor?

OS: I'm going back to the juggler.



OS: I saw him at Notre Dame, and just kept praying to myself quietly:

OS: "please say someone else sees that please say someone else sees that."

OS: you can see that, right?

OS: ?

Peter: Oh my God you hit the jackpot."

Peter: i might never stop watching that

Peter: That's it! -THAT- is what Karl Dorell is staring at, mesmerized!

OS:He can't think.

Peter: How could you?

OS: Maybe he hasn't asked anyone,

OS: This explains so much.

OS: "Hey, you see that shit, right? RIGHT?!?!"

Peter: That's it.  All UCLA has to do is put that guy on the USC sidelines. Check mate.

OS: I'm in agreement. If that happens, they win.

OS: Unless Pete puts on the boonie hat and takes him to Nepal to amuse the poor schoolchildren.

OS: In which case, game set match Humanitarians.

Peter: Yup - only a preemptive banishment to the third world could stop that.

OS: Hey, he still might take the Bama gig.

OS: HEY-OOOO!!!

Peter: Zing!

OS: Peter, Nestor will likely hate this, but it was far too amusing to be legal.

Peter: We have no choice but to go with this.

OS: Oh, I'm not backing down.

OS: This is quality.

Peter: Tremendous. Capped by the juggler, and the key to victory.  We practically won the game for UCLA anyway.

OS: Which is more than they'll do for themselves.

Uh yeah. Classic stuff from two of the very best of what we rag, tag army of bloggers from around the country has to offer. Thanks Peter and Orson. Tomorrow we may have a similar special treat. No promises though. But one thing for sure after UCLA pulls out this win on Saturday, Bruin fans will never have to pay for a drink either in Gainesville or Ann Arbor. GO BRUINS.