Memo to UA basketball community: UCLA is back and we own you.
Led by 27 points from AA, the Bruins exorcised some demons, and put what might prove to be the nail in UA's NCAA hopes with a 84-73 victory in front of a packed house at PP Saturday afternoon. The student section was on fire. (I loved the "NIT" chants with UCLA up by 10 with 01:00 to go.)
Ryan Hollins also deserves props for his performance not just today, but during the past few weeks. Ryan has provided that much needed presence in the middle. He's playing with aggression. He could be the key to a nice run in March.  
Once again, the classy old man Lute Olson gives no credit where credit is due:

We played a good 25 minutes," Olson said. As soon as we learn to play 40 minutes, we're going to be pretty good.
Yeah Lute, that shitty first half had nothing to do with UCLA's aggressive D.
I guess my eyes are deceiving me, but I saw their post guy move all the way out of bounds to get Hassan," Olson said. Obviously, a moving pick. You can be half-blind and still see that.

How about a little credit to Ben Howland, the man who is quickly making UA hoops irrelevant, and not to mention UCLA's smothering defense. Every single possession is contested.
One of the things about our team through the years is we've tended to be very consistent," Olson said. "This year, it's the inconsistency that's getting us.
Lute in an epic meltdown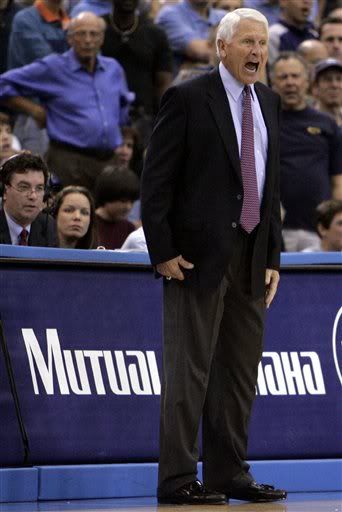 The changing of the guard in the PAC 10 is complete. We will own UA for the foreseeable future.