[UPDATED 2:19 pm EST]Games in San Diego have been delayed today due to a bomb threat. Our game is delayed by at least 90 mins. Here is the breaking news via AP(ESPN).More later. -N

[UPDATED 2:37 pm EST] Per Gumble on CBS fans are now being allowed inside the Cox arena. Here is Dodd from CBS Sportsline. Our game will probably be now on around 7 pm EST. - N

Note the countdown clock above. Less than 5 hours to go. For good karma it never hurts to check out this video clip over and over again (yes it has something to do with 4.8 seconds of Bruin shining moments). Let's hope AA and the boys can generate more of this kind of shining moment starting today: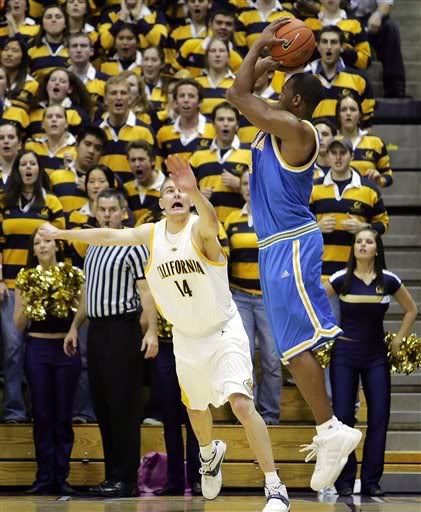 AP Photo

You can check the LIVE CBS Sportsline scoreboard of all other games here. By the way we have 41 entries into our BruinsNation tourney bracket. Not bad at all! I will post updates on Sunday if not on Saturday am after the first two days. If someone wants to go ahead and post them before that feel free. This is our tournament/game thread. GO (UCLA) Bruins.