I was in LA on business this past weekend and I was lucky enough to come into some tickets (donor level seats) for Sunday's game.  Since moving out of California a couple years ago, I don't get to go to many games anymore, so I don't take these opportunities for granted the way I used to. Not to mention the beautiful females crawling all over Westwood...
I actually had these seats before--for Lavin's last game in Pauley.
Entering Pauley Pavilion and walking through the doors to my floor-level seat, I got chills. The banners. Coach Wooden. The student section and band. I wondered to myself as I watched Malik Hairston going through his warmups, how much Nike/UO paid him to pass on the opportunity and privilege to play in this shrine of college basketball. Give me Luc anyday.
To make my return to Pauley even more special, it was senior day. I didn't know quite what to think. On one hand, after Sunday, the Lavin era would offically be over in Pauley Pavilion. On the other hand, it was sad to see Ced, Janou, Ryan, and Mike get introduced for the last time. Like the rest of us in the Bruin Nation, these kids were dealt an unfair hand in having to deal with the ineptitude of Steve Lavin. Fey looked like he was going to cry all game long--almost as if he just realized that he had been cheated for the past 4 years.
Another highlight was the honoring of the 1968 National Championship team.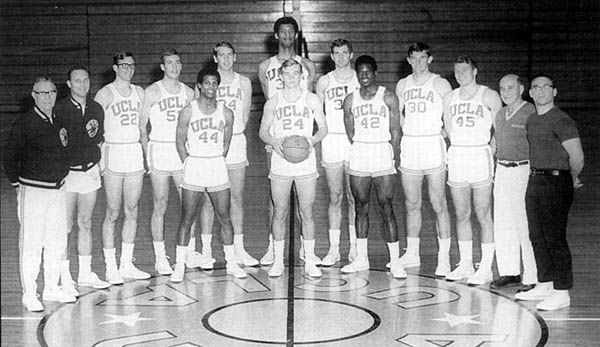 Again, there was something about seeing the banners, the Coach, and Kareem all at the same time and in the same place. Is there a more hallowed hall of basketball greatness?
Consistent with their recent MO, the Bruins came out slow on offense. OU's zone was giving the Bruins fits. Fortunately, the defense showed up as well. As usual, Mbah a Moute was all over the place. He scored the majority of his points on rebounds and junk without having any set plays run for him. Afflalo locked up Malik Hairston--again. It was also fun to watch Mike Roll finally getting comfortable from the outside. It looks like the staff is making a concerted effort to get Mike the ball in space or in rhythm to try to get him, well, Rolling.
The second half went according to plan. The Bruins started draining outside shots, OU came out of their zone D, and the game was over within a matter of minutes. If a Bruin wasn't getting an easy layup or dunk, another Bruin would be bombing away from the outside. It was a fun second half.    
Coming back to Pauley will always be special for me, especially now that I don't get back as often. Sunday was especially so with the knowledge that this program is well on the way to retaking its rightful place among college basketball's elite.