On the mighty shoulders of Arron Afflalo, the Bruins win a tight one in dirty Berkeley to clinch a share of the PAC 10 Championship.
Tonight the Bruins added support for the old adage, "Defense Wins Championships." Fortunately, the D showed up in the second half and Leon Powe came back to earth.
Check out Yahoo's recap here and DSPN's recap here.
(By the way, don't expect DSPN to take a break from tossing their beloved JJ Redick's salad on a daily basis.)
Some things that immediately stand out from the  
box score:
8-16/5-9 for 25 with 5 boards. AA is a stone cold killer. What else can you say about this kid? AA finally had that big game that we've been waiting for. You could literally see it on his face when he came out of the locker room for the second half.
DC stepped up BIG tonight. His 11 points were a major contribution, and his penetration allowed for AA to get a couple of those 3's off.
JF had an off night, but made that little runner when it counted to stick the dagger into the Bears' hearts.
(Yahoo Sports)
Of course, we can't forget Luuuuuc's tenacity banging with Powe and Harden all night, Aboya stepping up with 8, and Boze playing good on ball D and hitting the few shots that he takes.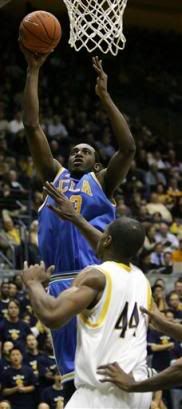 (Yahoo Sports)
Last but certainly not least, a huge contratulatons are in order for Coach Ben Howland, Coach Ernie Zeigler, Coach Donnie Daniels, and Coach Kerry Keating.
Let's not forget that just 3 short years ago, our beloved Bruins were at such a low point that they opened the season 3-4 with losses to Brach West, EA Sports, USD, and Northern Arizona. The Bruins finished that season 10-19 and 6-12 in the PAC. You cannot give Howland and his staff enough credit and praise for what they have accomplished in 3 short years.
Go Bruins. Let's wrap it up Saturday at Maples.