So Farmar is gone. As I have said numerous times here on BN we should wish the kid nothing but luck.  Not sure if I am going to watch the NBA draft - but I sure hope he gets his wish and gets drafted by a team that will fit his wish of best case scenario. Apparently he has indicated that he wants to play for a team that already has a good point guard, who he can learn from his first year or two, and then eventually take over at pg (Phoenix or New Jersey?). Let's hope that's how it works out for him draft night.
As for UCLA, we are in good hands. No question the team at first is going to miss Farmar's killer instincts when games are on the line and his willingness to take those clutch shots. But if there is any program which can withstand the hit of an early NBA departure of player in the caliber of Jordan Farmar, it is UCLA.
As mentioned before, Arron is coming back. And it will be a huge help. There was a good article in the Press Enterprise yesterday discussing next year's team now that AA/JF NBA exploration saga has been all hashed out:
Oddly enough, while point guard Farmar determined from his travels around NBA camps and workouts this spring that he would likely be a first-round draft pick, Afflalo gleaned from his research that he needed more work against the Arizonas, Washingtons and Floridas of the world.
Weird twist. In their Bruins uniforms, Afflalo would have been -- will be -- the more valuable one next year. The shooting guard is the team's best perimeter defender, the one asked to shut down the opposition's best forward or guard.
Coach Ben Howland, who has coached from the West Coast to the East Coast and back again, has called Afflalo one of the best defenders he has ever tutored.
Afflalo also happened to be the Bruins' top scorer in their run last season to the NCAA title game, but with the talent that will take the court next year, scorers figure to be the least of UCLA's worries. What the Bruins valued most offensively from Afflalo -- along with Farmar -- was the chip they wore on their shoulders, the willingness and eagerness to take the shot that counted most.
HT to
BBR
for that article.
I also think this whole experience with exploring the NBA draft will have positive impacts on AA (and the UCLA basketball team). AA always had a little chip on his shoulder. He is the fieriest leader a Bruin basketball team has had since the days of Ed O'Bannon. AA is one of those guys who will soak in all the feedback he has gotten from this process, apply them in his summer league games/workouts, and come back better, stronger, and even more determined going into next season. And that intensity will rub off on the entire team. Having a guy like this being the unquestioned leader of the team will do nothing but wonders for further improving our team's chemistry: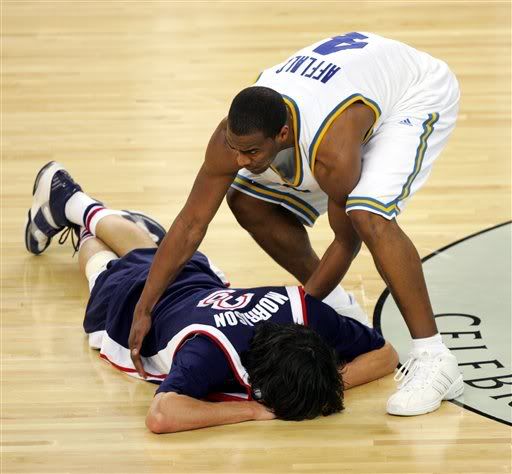 AP Photo
And of course at PG we are going to have DC who reportedly has already put on about 12-15 pounds (?). DC still needs to work on his shot (he has that sling shot). But IMHO having DC at PG is going to be an upgrade when it comes to having defensive intensity on the floor. Here is how I see the project rotation for next year:
1: DC, AA, RW, AH
2: AA, MR, RW
3: JS, MR, JK
4: LMM, JK, RWr
5: LM, AA, RWr
I left Spica off that rotation because right now I am not betting on him suiting up in a UCLA uniform next season (and there are rumors about another possible Euro recruit - so who knows?)
In any event with the players we have on our roster right now this is a more than decent 10-11 man rotation, which should be able to make a run and win the Pac-10.
I'm sure we are not going to go in next season and be a top-3 team, but what we got is not going to be chump change. Some may think we may be a top-5 team. I think we are going to be a top-10/15 team that will be better defensively than last season, and potentially be more explosive offensively with a healthy Josh Shipp and returning experiences of Arron, Luc, Collison, Roll and co.
I am not mentioning Keefe's name yet because I want to temper my expectations from a freshman. Same goes with tempering expectations on Westbrook. It will be interesting to see how he develops through this summer and early fall before participating in team practices in Oct/Nov. Perhaps he will be able to contribute at the 2 and maybe get some time at 1. But it's still early.
Oh while mentioning freshmen, we should note that we already have one of the best players in the West Coast, Chance Stanback, committed for the 2007 season, and we are looking very good for getting some exciting news out of Oregon re. 2 of the nation's best players in 2007. And even if we don't get one of them, Howland may have other options lined up. Whatever happens on that end, given we probably have the hardest working recruiting junkies in our coaching staff, I am not going to worry too much about the talent inflow in our program and the balance of our roster.
But, seriously, I cannot wait for UCLA hoops (especially considering we may be experiencing a dismal football season even though that team should win at least 8 regular season games and beat SC).
Anyways. Congratulations again to Jordan Farmar.
I will always be grateful to him for reviving the greatest basketball program. I hope his NBA career is longer than his college one.
Meanwhile, we can move on and get excited about the continued growth of UCLA basketball under the best coach in America.
GO BRUINS!