Since the Bruins did not participate in Separation Saturday, we've decided that it's only right to allow the Bruins to have their own important Saturday. We'll call it Statement Saturday, because today the Bruins have an opportunity to utilize the talent and new defensive attitude against a PAC 10 team and to show the Nation that this year is different.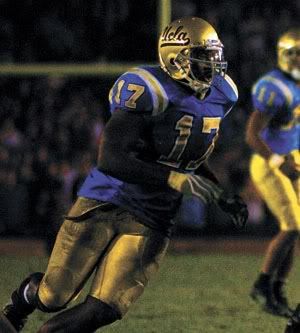 Justin Hickman is looking to make a statement today.
A win means the Bruins most likely crack the top 25, and are on track to meet the minimum expectations of 9 wins, including a W against Southern Cal. A loss means were right back to square 1.
So, on to the Statement Saturday roundup:
Lonnie White at the LAT has a predictable cookies and milk story about how UW head Coach Ty Willingham and Dorrell have followed similar paths (except for the fact that Ty actually won a PAC 10 Championship at Stanford before his flukey 10-win season at ND).
"It's a little bit different now that I'm one of his peers, working at this level," Dorrell said. "But to me, he will always be in my mind a few notches above me. Tyrone is a quality man. Definitely one of my favorites."
Over at the LADN, Dohn has a piece about how the Bruins have a Chip on their Shoulders because they believe that UW will try to pound the ball down their throats because of their undersized D-line.
Dohn also notes that the Bruins will be honoring one of my personal favorites from this team, Robert Kibble, by wearing #19 on the backs of their helmets. Robert will not be making the trip to Seattle because of complications from MS. Kibble played in spots last season as a true freshman and showed that he is a little Roy Williams coming out of the secondary. The kid likes to bang. Our thoughts and prayers are with you RK--stay up and get well soon.
Dohn also notes how the Bruins have not been as efficient as they would like to be in their red zone O, settling for more FG's than TD's. That's not going to get it done.
Finally, some news from enemy territory. The Seattle Post Intelligencer reports that, surprise, the Huskies will test UCLA's defense, and provide this breakdown of the game:
HUSKIES VS. BRUINS
WHERE/WHEN: Husky Stadium, today, 4 p.m.
TV/RADIO: TBS; KJR-AM/950
WASHINGTON PLAYER TO WATCH
RB Kenny James. James starts the game for Washington, and his success on the first few snaps has been indicative of how the Huskies do out of the backfield. Against San Jose State, James' first six touches yielded 42 yards and a touchdown. UW racked up 319 yards on the ground that day. On his first carry at Oklahoma, he broke loose for a 54-yard touchdown. Washington totaled 204 rushing yards. Last week, his first six carries led to 5 yards. The running backs rushed for 28 yards against Fresno State.
UCLA PLAYER TO WATCH
QB Ben Olson. Just a sophomore eligibility-wise, Olson, 23, served a Mormon mission and transferred from Brigham Young. He has a strong arm and a good head. He doesn't make many mistakes and has completed 73 percent of his passes. The Huskies haven't stopped their opponents' running games, but they've kept the running backs from beating them. The opponents' quarterbacks, however, are the guys who have inflicted the pain.
WASHINGTON OFFENSE
WR  5  Anthony Russo 5-11  185 Jr.
LT  79  Ben Ossai 6-6  300 Fr.
LG  74  Stanley Daniels 6-4  320 Sr.
C  58  Juan Garcia 6-3  315 Jr.
RG  63  Clay Walker 6-4  305 Sr.
RT  75  Chad Macklin 6-8  300 Jr.
TE  37  Johnie Kirton 6-3  270 So.
QB  4  Isaiah Stanback 6-3  215  Sr.
TB  8  Kenny James 5-10  215  Sr.
FB  43  Mark Palaita 5-10  245 Sr.
WR  18  Corey Williams  6-2  195 Jr.
PK  14  Michael Braunstein  5-8  185  Jr.
WASHINGTON DEFENSE
DE  66  Daniel Te'o-Nesheim 6-4  245  Fr.
DT  91  Donny Mateaki 6-5  285 Sr.
DT  74  Wilson Afoa  6-3  290 Jr.
DE  7  Greyson Gunheim 6-5  265 Jr.
OLB  34  Dan Howell 6-1  225 Jr.
ILB  47  Tahj Bomar 6-2  225  Sr.
OLB  4  Scott White 6-1  235 Sr.
FS  26  Jason Wells  6-2  210 So.
SS  1  C.J. Wallace  6-0  210 Sr.
CB  6  Matt Fountaine 5-11  180 Sr.
CB  28  Roy Lewis 5-11  187 Jr.  
P  17  Sean Douglas 6-2  230 Sr.
UCLA OFFENSE
SE  8  Junior Taylor 6-2  202  Sr.
ST  78  Aleksey Lanis 6-6  316  Fr.
SG  71  Shannon Tevaga 6-3  316 Jr.
C  54  Robert Chai 6-3  280 Sr.
WG  60  Chris Joseph 6-5  282 So.
WT  74  Noah Sutherland 6-5  299 Jr.
TE  86  Logan Paulsen 6-5  247 So.
QB  7  Ben Olson 6-5  227 So.
FB  32  Maichel Pitre 6-0  244 Jr.
TB  28  Chris Markey 5-11  204 Jr.
FL  1  Brandon Reazell 6-0  156 Jr.
PK  7  Justin Medlock 6-0  197 Sr.
UCLA DEFENSE
DE  17  Justin Hickman 6-2  263 Sr.
DT  77  Kenneth Lombard 6-1  261 So.
DT  75  Kevin Brown 6-2  293 Jr.
DE  44  Bruce Davis 6-3  237 Jr.
SLB  42  Aaron Whittington 6-2  215 Jr.
MLB  33  Christian Taylor 6-0  222 Jr.
WLB  51  Reggie Carter 6-1  218 Fr.
CB  23  Trey Brown 5-9  185 Jr.
SS  14  Chris Horton 6-1  210 Jr.
FS  11  Dennis Keyes 6-2  194 Jr.
CB  3  Rodney Van 5-11  170  Jr.
P  17  Aaron Perez 6-4  219 So.  
OUTSIDE VOICES
Lonnie Smith, Bruins beat reporter for the Los Angeles Times: "The biggest change with the Bruins this season has been their defense. First-year coordinator DeWayne Walker has his unit flying to the football and making tackles that it did not do last season. Linebackers Christian Taylor and Aaron Whittington, along with safeties Chris Horton and Dennis Keyes, are big-play defenders. Olson has a big arm and is an NFL-type quarterback who has played well, but can play better. Running backs Chris Markey and Kahlil Bell are solid and can control a game running behind an athletic and physical offensive line. Kicker Justin Medlock has range up to 60 yards."
HISTORY LESSON
The Bruins lead the all-time series 35-28-2, and UCLA has owned the Huskies of late. UCLA has won the past five meetings and eight of the past nine. In the past two games between the Pac-10 foes, the Bruins have used come-from-behind efforts to clinch wins. In 2005, Washington squandered a 10-point fourth-quarter lead and fell 21-17 at the Rose Bowl. In Seattle in '04, UCLA rallied from a 24-7 first-quarter deficit to win 37-31 as Maurice Drew set school records with 322 yards and five touchdowns.
LATEST LINE
UCLA by 3 1/2
P-I PICK
Olson picks apart the Huskies secondary and UCLA continues its winning streak against Washington. The Huskies keep it close, but ultimately can't force the Bruins into game-changing mistakes. UCLA 31, Washington 24
Last time the Bruins were in Seattle I was fortunate enough to make the trip up North and witness one of the most prolific single games by a UCLA RB, as Maurice Jones Drew ran wild for 322 yards.
Hopefully the Bruins will give us something to remember today.
Go Bruins!