There isn't much to say that isn't already being better said elsewhere.
The fires raging across Southern California from Ventura County to the international border are the lead story on every news web site and in every newspaper -- at least the ones in my neighborhood.
I consider myself fortunate. My own Los Angeles-area home is in no immediate danger. But even though I can't see the flames from my backyard, the sky above my house is dark with smoke and the air is palpably thick with soot and ash.
It's difficult to breathe.
With so many of our readers either residing in Southern California or having some SoCal roots, the publisher and writers of this site decided it would be important to have an open thread today, where readers can share their own experiences with the region in flames.
All of us certainly hope that everyone is safe and sound. If you are, look for ways to help your neighbors who aren't.
Football is important.
Some things are more important.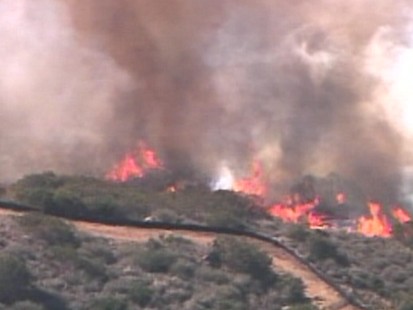 ABC News
Be safe ...
UPDATE -N: LAT is posting constant updates over here .
UPDATE II -- M: If you want to help, please contact the American Red Cross. The ARC has already set up nearly a dozen shelters with blankets, cots, food, and emergency supplies for thousands of people.
They can use monetary donations. They can use blood donations, especially for those who have suffered serious burns. The toolbars on the left-hand side of each page on their site can help you locate the Red Cross facility closest to you.
If you are one of the folks who had to evacuate, or know of someone who did, the ARC has also set up "Safe and Well" lists, so people can track down their loved ones. Hundreds of people are already signed up.
Prayers of the BruinsNation go out to everyone out there. -- M
UPDATE III - N: Some useful links courtesy of Gaslamp Ball, our SBN friends who blog about their beloved Padres.
UPDATE IV - N: Another post has gone up over at Clips Nation (yes there are enough Clippers fan apparently to form a "nation." j/k Steve! Steve is good guy who also went to Pepperdine U). -N