Bruins are going to play two huge games against the Bay Area schools to close out their home stand at Pauley. Bruins haven't lost at Pauley since playing West Virginia last February. As I mentioned on Friday I have been following the Bruin hoops on a day to day basic since Jim Harrick's first season at UCLA. And I don't believe I have seen the Bruins go undefeated at Pauley since the beginning of that era in Westwood (someone please correct me if I am wrong). Even the 1995 National Championship team dropped a game at Pauley, which coincidentally came against the Bruins next opponent: good ole Bears.

We will get back to the Bears later. However, before we get into Cal, we may as well start pondering something that has been hanging over our head all this season. In all likelihood this will be Arron's last home stand. Yeap, this could be the last week at Pauley for Coach Howland's first recruit at UCLA. Remember this? From Greg Hicks at Bruin Report Online (free article) (emphasis mine):
Arron Afflalo, a 6-4 junior shooting guard from Compton (Calif.) Centennial, is the first recruit of the Ben Howland era at UCLA...

Arron Afflalo, 6-4 JR SG Compton (Calif.) Centennial, committed to UCLA over the weekend.

Afflalo, the top rated two guard in the West Coast class of 2004, gave a verbal commitment to UCLA coach Ben Howland at the Wooden Award banquet, where Afflalo won the Wooden Award for Division III high school players.

We spoke with Afflalo and asked why he chose UCLA. "I looked at all the other schools I was considering," said Affalo. "And there really wasn't any reason for me to leave -- I have everything I need here. The coaches are great, I like the situation at UCLA where I can help get them back on top and I get to stay close to my Dad."
What else can you say? Boy has he already delivered?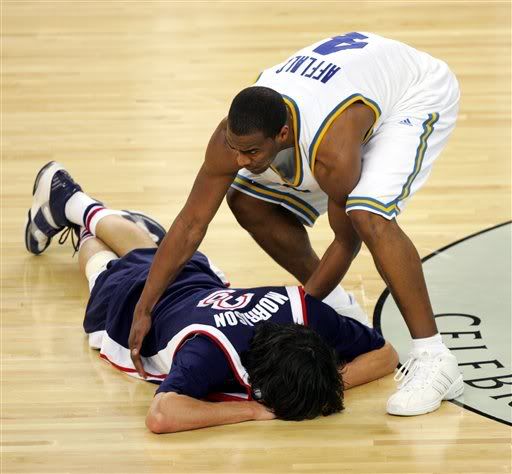 AP Photo
I will never get tired of posting that image.
I know the standard for UCLA basketball is nothing short of national championships. But just think back to April 14, 2003. Coach Howland came into Westwood to take over a UCLA team that had it worst season in something like 4 decades. The program was destroyed and burned into the ground by Steve Lavin that even a task master like Howland couldn't coax out more than an 11 win season out of the rag tag rejects Lavin left him at Westwood.
AA could have gone anywhere else he wanted (same goes for Jordan). However, he held firm. He believed in Coach Howland. He remained committed and came into Westwood in 2004 with Jordan, Josh, and Lorenzo. And of course we now know the rest.
I have written here many time before my two personal favorite UCLA athletes of all time are No. 18 (Cade) and No. 31 (Ed). Cade and Ed during their times were the unquestioned Kings of Westwood. I am going to add No. 4 to that group now.
Let me go back to No. 31. I still remember Ed's last game at Pauley. It was one of the most emotional experiences I ever went through as a student section regular for four years at Pauley Pavilion. I still remember when Ed was introduced one last time before that game Oregon. He walked in with his parents, (then) girlfriend, and his son. Yes he came over to the student section and held up his son just like the Lion King. And then when the game was over he went right to the center court and kissed UCLA.
Arron if you are reading this ... I know your mind is on nothing but how to beat the Bears. But do let us soak it all in after this Saturday. And think about the kissing the center court.
You have earned it. After Ed O'Bannon, you have become the new King of Westwood.
Thank you from a Bruin who will always be grateful for what you have meant to all that is Blue and Gold.
We love you.
GO BRUINS.