It's time to crank up the MOJO Bruin Nation.
Here we go folks, get ready for a bloodbath. This game will feature 2 defense-oriented teams that offer no apologies for playing a slow-down, keep it in the 50's type game. That said, I'm confident that the Bruins have enough on the offensive side to prevail. I don't want to jinx anything, but I have this feeling that AA is overdue for a really big game.  No better time than the present. We take care of business today, and the bracket is rolling out nicely for the Bruins. Oh yeah, as Nestor pointed out, the Hoosiers have one coming from the Bruins.
Keep an eye on WSU, they are about to make the sweeet 16 with a W over Vandy. Unbelievable job by Coach Bennett. PAC 10 with a nice showing so far (except, of course, for the Mildcats and Furd). Even the thugs from South Central won a game.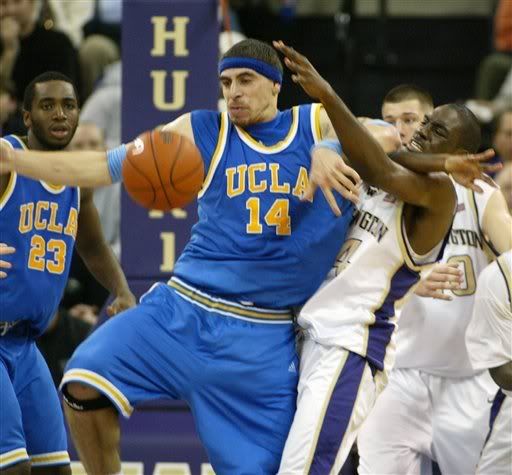 Lo Mata laying the wood, credit YahooSports.com
This is your pre-game and open game thread.
Have at it!
Go Bruins. On to the Sweet 16!