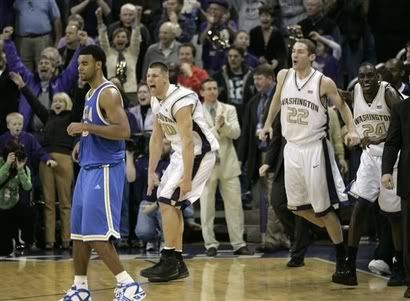 My initial reaction: whatever.
Who didn't see this coming? This was a classic letdown game. Give credit to UW for playing uncharacteristically good D, as well as the Husky faithful for creating a raucous homecourt advantage. I liked Romar's strategy of throwing different defenders at AA all game.
This is not the worst thing that could happen just before the PAC 10 tourney and March Madness. We got a taste of our own blood. This team has responded to L's this season pretty well. I expect to see the same thing over the next couple of weeks. Who knows, maybe we get UW again in the Pac 10 tourney? If so, don't expect the same result.
Any way, here is the DSPN summary and box score as well as the CBS Sportsline.com recap.
This is your post-game thread.
Enjoy the rest of your weekend, and Go Bruins.