I think we are all ready to just move on from yesterday's letdown in Seattle. As much as we would have liked to see the Bruins come out and step on UW's throats, they just were not up for the game. However, the game was inconsequential.
As MIM points out in the diaries, Diane Pucin's article from the LA Times touches on AA's frustration at the way the Bruins did not show up in Seattle. Some of AA's criticism was focused on DC. Brian Dohn at the LADN also chimes in on AA's criticism of last night's performance. I think DC will take AA's criticism to heart and move forward. I think this is just AA taking charge and trying to assert himself as the leader on this team. He wants to put up #12 in Pauley before he almost certainly leaves for the NBA next season. I don't think DC will think that AA's comments were out of line.
At least the Bruins are still playing that Howland style of physical play when the shots aren't falling.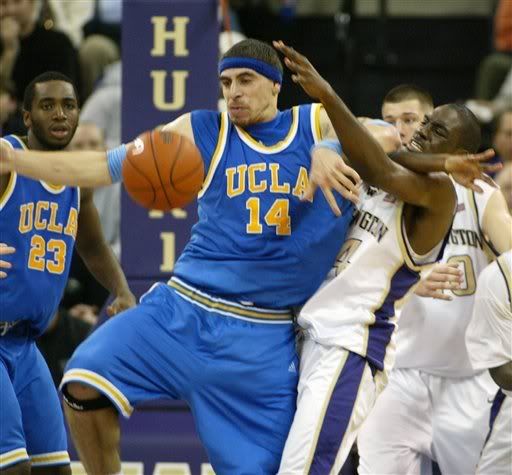 Photo credit: ESPN.com
Sophomore forward Jon Brockman had 20 points and 13 rebounds. It was a game Brockman called "the most physical we've played all year," and it was the Huskies who willingly accepted the bumps and bruises, the elbows in the chest, refusing to back away.

Anyway, time to move on. Here is the PAC 10 tourney bracket. The Bruins will start off with OSU.
Go Bruins.