Well not surprisingly the Part 1 of this discussion in which we all tried to create a list of 15 of our favorite Bruins  (from 6 to 20), turned into a pretty amazing thread.  That was really the purpose for it. One of the big reasons I wanted to share that post because I thought it would rush back some wonderful memories and it did exactly that.
This discussion more than anything is meant to stir up memories of the Bruins you were fortunate enough to see in person or on television, while the action was playing out. This means at least for yours truly, not being able to include legends like Bill Walton, Kareem Abdul Jabbar, Kenny Easley, Gary Beban, Jackie Robinson, and so many other legends, who I never got to see them play in a Bruin uniform. 
The list that I put up by no means was meant to be a list of the fifteen greatest Bruins of all time. That at least for me is an impossible task. Perhaps someone here at BN wants to take a stab at that endeavor but IMHO that will take perhaps at least half dozen posts and perhaps dividing it up in various categories.
Also, IMHO Coach Wooden stands out in a separate category all by himself. I think he is someone who stands for something that goes beyond sports. At least for me when it comes to his place at Bruins Nation, he doesn't belong in any kind of list because there is just no comparison to what he stands for and what he means to all of us.
So that brings us to Part II of this discussion. I don't think my top-5 is going to be any kind of surprise to the regular readers on BN.
In this case I actually didn't have any problem ranking them.  Here are my favorite Bruins of all time: 
1. Ed O'Bannon: I have already written few times about who IMHO is the unquestionable King of UCLA basketball (in Post Wooden era). You can check out those posts here, and here. I wonder if we will ever see someone like Eddie O. I am just not talking about his basketball abilities but the story that he weaved together while going through his emotional journey in five years in Westwood. I think only AA came close in terms of matching Eddie's passion and leadership abilities in a UCLA basketball uniform but it was Eddie who brought home that banner.

There are just many memories related to Ed and I think I have shared all the ones I can remember. There was that thunder dunk in his very first game in a Bruin uniform against Stanford at Pauley. Everyone who was there should remember that moment when Eddie took off (from what looked to us from the student section) from the FT line and just hammered it down over a hapless Cardinal defender. Ok, he got called for the offensive foul. It didn't matter. He brought Pauley down.

He brought Pauley down to tears on his senior day when he held up his son right infront of the student section (like the Lion King of Westwood). There were no dry eyes in that student section and it got even more emotional when he kissed the center court right before he left Pauley. Then there was the run in the Big Dance, ending up with that perfect night in Seattle.  Ed O remains as die hard Bruin as ever. Here he was leading the 8 clap at the Bruin Bash during 2006 Final-4:
There have been lot of great UCLA basketball players of the years. Yet I personally have never felt the kind of emotional connection I have felt with Ed. Perhaps it was due to the fact that we started school at the same time. Perhaps it was seeing just how he battled through adversity. Perhaps it was seeing the way - incredibly humble and gracious - he carried himself to rest of the student body. It was a love affair with Ed O from the moment he stepped on the court and it will remain that way for the rest of our lives.
2. Cade McNown: In my book Cade is the greatest QB ever to put on a UCLA uniform. I am sure many will advance legitimate arguments on behalf of Gary Beban, since he won the Heisman. For me though what he did in his four years as starter including that 4-0 record against you know who clinches the deal. Cade is lot more than my favorite UCLA QB. He is my favorite UCLA football player of all time. Obviously there was the magical 20 game winning streak. There was those incredible scrambles into the end zone:
For me though the classic Cade moment I can remember was during a game against Washington in his junior season at UCLA. The game was at the Rose Bowl. The house was packed with more than 80,000 Bruins in the stands. I can't recall what half the play took place but I remember Cade just taking off in a boot leg and when he saw a Husky LB he just slammed right into him and decked him into the ground. It was Cade who looked like the LB in that collision and the glare he gave after that hit left no doubt about it. He was the ultimate, old school warrior QB who played with no fear, willing his team to victories time after time. Speaking of warrior moments there was also this against one of the most amazing game at the Rose Bowl against Oregon Ducks:
Yeah he literally left everything on the field (we won that game BTW for the younguns who can't remember). That year was actually full of amazing nail biting victories which also included last minute TDs against Oregon State and a TD saving swat by Marques Anderson against Stanford during the home coming game.

It is just too bad Brian Poli Dixon had to fumble away what was going to be a sure fire TD against Miami and the zebras called a fumble when Brad Melsby was CLEARLY DOWN on December 5, 1998. Otherwise, I have no doubt Cade would have brought home a BCS championship against T. Martin's Tennessee in 1999. In my mind there is no doubt. Number 18 is the greatest QB ever to play in a UCLA uniform and he might have an argument for being perhaps the best ever to play the game as a Bruin.
3. Tyus Edney: Well point guard has been a key topic of discussion during last year in Westwood. I just have to laugh a little when remembering how none of us even knew who Tyus was when he stepped on the court as a true freshman. IIRC Edney was part of a two men freshman class which also brought in George Zidek in 1991. At that time all the attention was around UCLA's other much heralded underclassmen such as  Ed O'Bannon, Sean Tarver and even Rodney Zimmerman (hey he was Colorado's player of the year!).

Edney was an afterthought (out of Long Beach Poly) who would perhaps give us some backup minutes behind seniors like Derrick Martin and Gerald Madkins. I can't remember which dorm he lived in but he would come to Puzzles (at the time the cafeteria for brand spanking new Sunset Village in its very first year) a lot. I had met him during summer before freshman year (during an early enrollment program at UCLA) and he never gave any hint of being a scholarship player on the UCLA hoops team. Then came the road game against Arizona and Tyus busted into the scene essentially emerging as a key catalyst in Bruins' first win in the desert in years. From then on it was clear that it was a matter of time Edney would take over the starting spot from Derrick Martin, and he did before the regular season came to an end.
Of course any casual UCLA fan remembers him for the 4.8 seconds: Not many remember the chance he had to win the game against Fab-Five in his sophomore season in the second round of the Big Dance. That was a game in which Ed O went off for 30+ points (before Harrick cooled him off by taking him out right when he absolutely on fire). Anyway, the Wolverines came back and evened up the game and Edney had chance to win the game by going right to the hoop in closing seconds. Instead he tried to dish it off to Zimmerman for a layup and he just couldn't convert. So as our team was making that charge through 1995 season, all of those incredible memories (including that torrid shooting performance against the Calhoun's Dick Vitale/ESPN hyped Huskies in Oakland) became even more special, when thinking back to the heartbreaks we collectively experienced during his four years in Westwood.

UCLA being the "Point Guard U" I am sure others have their own favorite floor general. For yours truly though no one stands above Tyus Edney. Perhaps it's the bond from those early 90s culminating in the greatest basketball season in Post-Wooden era. I can't completely explain. In my mind Tyus Edney while striking that pose following the end of the half three point bomb against Huskies in Oakland cemented himself as one of my five favorite Bruins of all time.
4. JJ Stokes: I almost didn't get to watch JJ's breakout game that became the stuff of legends thanks to his heroics with John Barnes. That was my sophomore year at UCLA and I had pretty much decided that I didn't want to go to the Rose Bowl to see the Trojans beat up on the Bruins who were having a pretty mediocre season (which was becoming frequent in Terry Donahue's last 5 years in Westwood). Anyway, my buddies cared enough to talk some sense into me and I decided to go. The result was of course epic culminating in one of JJ's signature moments as a Bruin as he literally dragged Jason Oliver (the hapless Trogan DB) like a ragdoll into the endzone at the end of that amazing TD:
What many don't remember though is that JJ actually emerged in the game before when he was the catalyst in a huge win against Oregon up in Eugene. He was just rounding into form and setting himself up for one of the best regular season at UCLA WR the following year.

While it's the epic comeback against the Trojans that will be burned into casual fans' memories, my favorite game featuring JJ was the one against Washington Huskies in his junior year (ending up with a Pac-10 championship) at the Rose Bowl. JJ put on perhaps one of the most dominating performances I have ever seen by a college WR in person. I couldn't find the stats from that day but IIRC he had close to if not more than 200 yards in receiving that day and 4 TDs. He was an unstoppable machine destroying the Huskies all on his own. Essentially he was playing like the college version of Jerry Rice. He ended up having 17 TDs that junior season and also did everything he could to win the Rose Bowl for us (176 receiving yards and a Rose Bowl record at the time) against Wisconsin. Except for Cade McNown I have never seen a UCLA offensive player dominate game after game JJ did that season.

JJ's number went down in his senior season because all the teams were game planning around him. Yet the focus on him allowed for the emergence of other weapons like Kevin Jordan, who went on to have great senior season. Of course as a Niner fan many of us were beyond excited when JJ got drafted in the first round. Even though it didn't work out, what JJ did during his UCLA career for something truly special. I know CRN has mentioned how he wants Nelson Rosario to emerge like JJ Stokes this coming season. I am not sure if any other UCLA receiver will ever have the kind of career he did at UCLA. If Rosario can capture some of the magic JJ shared with us during his Bruin days, we will have a chance to have a solid season next year.
5. Arron Afflalo: AA is the only one in this group who wasn't in school at the time yours truly attended UCLA. Not surprisingly sometimes we form natural bond and connection with the athletes we attended school with. It happens organically especially when you identify someone as part of your graduating class or someone you attended classes with on campus. Still I think AA is one of those Bruins who transcended number of generations given the way he helped Coach Ben Howland rebuild our program and carried himself off the court.

AA came into UCLA with the goal of bringing back the Bruins where they belong after the previous sham, fraud of a head coach had flushed the program down the gutter. He embraced from the get go what Howland's philosophy of basketball grounded in hard nose, all out intense defense, rebounding, fundamentals and precision offense. Instead of coming in a kid with entitlement he (along with Jordan Farmar) figured out how to co-exist and when appropriate defer to senior such as DT in his freshman season, before taking over the leadership responsibilities starting in his second season.

More than anything what I loved about AA was how he always started with defense. There were games when AA or his team-mates were not clicking offensively. That is when AA always took the initiative to serve as the anchor for the team by digging deep and locking it up on defense. We saw that play out on so many big games including nail biting, thrillers against teams such as Indiana, Pittsburgh, Memphis and a beat down on LSU. When AA experienced those rare losses, you could sense he was taking it just as hard as anyone on BN or any other hardcore Bruin fan, and coming back with even more vengeance. And even when AA won he acted like this: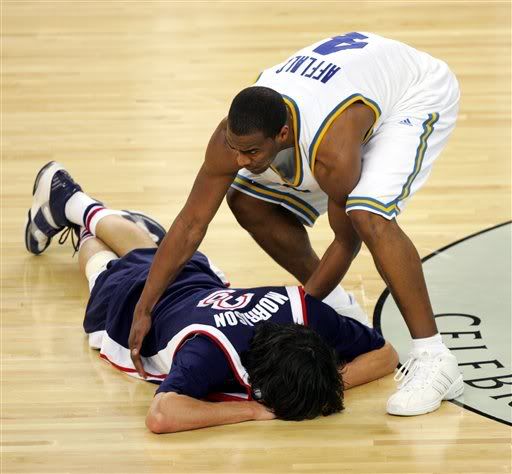 AP Photo

It was moments like that one which made AA one of the basketball kings of Westwood.  I will just end with this comment from AA little more than three years ago:
"When you think of USC football, you think of Matt Leinart, Reggie Bush, more TV-type stuff. It's not your typical atmosphere," said UCLA's Arron Afflalo, the Pac-10's basketball player of the year. "I think it's good to stay behind the scenes a little bit and shine when it's time. Who am I dating? I'm dating a little orange basketball."
Any other questions on why he is one of my top-5 Bruins? Perhaps Coach Howland wants to blow up those quotes, make a poster out of them and give them to this year's team (particularly to Jerime Anderson) as a reminder on what kind of dedication it takes to achieve the status of a legend in Bruin Nation.
So there you have it. My apologies to those who I got to watch and didn't include in the list. It is incredibly tough to leave out guys like Reggie Miller, Gerald Madkin, Mitchell Butler, Tracy Murray, J.R. Sakuragi (Henderson), Charles O'Bannon, Baron Davis, Troy Aikman, Earl Watson, Wayne Cook, Vaughn Parker, Carlton Gray, Sean LaChappelle, Scottie Miller, Jim Macelroy, Karim Abdul-Jabbar, Othello Henderson, Donovan Gallatin, Brian Wilmer, Brandon Ayanbadejo, the Ball Brothers, Matt Ware, Robert Thomas, Jason Kapono, Kevin Jordan, John Barnes, Brandon Chiller, Spencer Havner, Drew Olson, Marcedes Lewis, Jordan Farmar, Cedric Bozeman, Kevin Love, Brian Price and ATV other great Bruins I got to see in person over the years.
It is also tough to leave out Bruins like Natalie Williams, Cobi Jones, Lisa Fernandez, Annette Salmeen, Brad Fiedel, Jenny Johnson, Jeff Nygaard, who all had great careers while I was attending school.  That doesn't make any of them any less special.
I just wanted to share with you a list of who made an impression on me while I had the pleasure to watch and root for them in UCLA uniform. What is clear when making this type of list is realizing how lucky we are to root for the four letters. I am not sure how many other schools are out there that can put together a list like this featuring so many great players from both football and basketball (and we haven't even covered athletes from other sports).
Anyway, now its time for you to share your top 5 favorite Bruins of all time. If you didn't get to chime in the first thread might as well get your 2 cents in this one with your all time favorites. Just fire away. Hoping this will bring up lot of fun memories spanning decades of Bruin athletics.
GO BRUINS.